Posts for: September, 2020
By Lexington Endodontics
September 20, 2020
You probably wouldn't be surprised to hear that someone playing hockey, racing motocross or duking it out in an ultimate fighter match had a tooth knocked out. But acting in a movie? That's exactly what happened to Howie Mandel, well-known comedian and host of TV's America's Got Talent and Deal or No Deal. And not just any tooth, but one of his upper front teeth—with the other one heavily damaged in the process.
The accident occurred during the 1987 filming of Walk Like a Man in which Mandel played a young man raised by wolves. In one scene, a co-star was supposed to yank a bone from Howie's mouth. The actor, however, pulled the bone a second too early while Howie still had it clamped between his teeth. Mandel says you can see the tooth fly out of his mouth in the movie.
But trooper that he is, Mandel immediately had two crowns placed to restore the damaged teeth and went back to filming. The restoration was a good one, and all was well with his smile for the next few decades.
Until, that is, he began to notice a peculiar discoloration pattern. Years of coffee drinking had stained his other natural teeth, but not the two prosthetic ("false") crowns in the middle of his smile. The two crowns, bright as ever, stuck out prominently from the rest of his teeth, giving him a distinctive look: "I looked like Bugs Bunny," Mandel told Dear Doctor—Dentistry & Oral Health magazine.
His dentist, though, had a solution: dental veneers. These thin wafers of porcelain are bonded to the front of teeth to mask slight imperfections like chipping, gaps or discoloration. Veneers are popular way to get an updated and more attractive smile. Each veneer is custom-shaped and color-matched to the individual tooth so that it blends seamlessly with the rest of the teeth.
One caveat, though: most veneers can look bulky if placed directly on the teeth. To accommodate this, traditional veneers require that some of the enamel be removed from your tooth so that the veneer does not add bulk when it is placed over the front-facing side of your tooth. This permanently alters the tooth and requires it have a restoration from then on.
In many instances, however, a "minimal prep" or "no-prep" veneer may be possible, where, as the names suggest, very little or even none of the tooth's surface needs to be reduced before the veneer is placed. The type of veneer that is recommended for you will depend on the condition of your enamel and the particular flaw you wish to correct.
Many dental patients opt for veneers because they can be used in a variety of cosmetic situations, including upgrades to previous dental work as Howie Mandel experienced. So if slight imperfections are putting a damper on your smile, veneers could be the answer.
If you would like more information about veneers and other cosmetic dental enhancements, please contact us or schedule a consultation. To learn more, read the Dear Doctor magazine articles "Porcelain Veneers" and "Porcelain Dental Crowns."
By Lexington Endodontics
September 10, 2020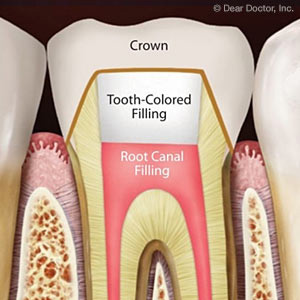 You might be a bit apprehensive if your dentist recommends a root canal treatment, especially if it's your first. That's understandable: Popular culture has portrayed the root canal as an unpleasant experience.
But as a routine dental procedure, root canal treatments have been responsible for saving millions of decayed teeth. And, with local anesthesia, the procedure is painless. In fact, a root canal treatment stops pain that often results from advanced tooth decay.
So, let's take the mystery out of the root canal. Here's the 411 on this vital but often misunderstood dental procedure.
Why the name "root canal"? The terms for the procedure—root canal therapy, root canal treatment or simply "root canal"—arise from one of the principal parts of the tooth involved, root canals. These are tiny passageways that lead from the tooth's innermost layer, the pulp, to the tooth roots. While treatment often focuses on decay or diseased tissue within the pulp, the root canals can be infected too and must be included in the later filling process.
Who can perform a root canal? All general dentists are trained in basic root canal procedures. Depending on your tooth's condition, your family dentist may be able to perform it. But if your tooth has an intricate root canal network or some other complication, you may need an endodontist, a specialist in interior tooth and root treatments. Endodontists can perform advanced root canal techniques and have the specialized equipment to handle intricate cases.
What happens during a root canal? Although details may vary depending on the type of tooth and extent of decay, there's a basic process for all root canal procedures. After numbing the tooth and surrounding tissues, the dentist drills into the tooth to access the inner pulp chamber and root canals, then removes the diseased tissue and disinfects the empty chamber and canals. After preparing the canals, the dentist then fills the empty spaces. This, and subsequent sealing and crowning, protects the tooth from future decay.
After the procedure you may have some minor soreness for a few days, which is usually manageable with mild pain relievers like ibuprofen or acetaminophen. This discomfort will diminish with time, and your tooth will have a new lease on life.
If you would like more information on root canal treatment, please contact us or schedule an appointment for a consultation. You can also learn more about this topic by reading the Dear Doctor magazine article "Root Canal Treatment."