Posts for tag: root resorption
By Lexington Endodontics
February 18, 2019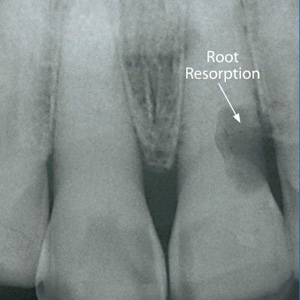 Tooth decay and periodontal (gum) disease pose the most common dangers to dental health. But there are some rare conditions that can also place teeth at risk to be on the lookout for during regular dental checkups.
One such condition is root resorption in an adult tooth, in which the root itself or its surface breaks down and is absorbed by the body. Resorption occurs naturally in a primary ("baby") tooth so it can loosen and give way for an incoming permanent tooth. Â Resorption still occurs in a limited form with young permanent teeth but should eventually stop.
Sometimes, though, it doesn't, either from the inside of the tooth out (internal resorption) or more often from the outside in, usually around the neck-like (or "cervical") portion of the tooth. This more common occurrence, External Cervical Resorption (ECR), can first appear as pink spots on the enamel and then progress into cavity-like areas. If not found and treated promptly, damage can occur quickly and lead to tooth loss.
We don't fully understand the exact nature and causes for ECR, but we have identified risk factors for its development. Excessive orthodontic force on the teeth or any other trauma can cause damage to the periodontal ligament (which holds teeth in place with the jaw bone). Teeth grinding habits and some dental procedures like internal tooth whitening can also be risk factors.That being said, though, the vast majority of people who experience these issues don't develop ECR.
Although the causes aren't fully understood, we can still treat it: the key to success is early detection. You probably won't notice early signs of ECR, but we can often detect spots from routine x-rays. We can then remove the tissue cells within the lesions causing the damage and restore the area with a tooth-colored filling material. If ECR has extended near the tooth's interior pulp layer, then a root canal treatment may be needed.
Needless to say, the more extensive ECR occurs in the roots, the less likely the tooth can be saved and may need to be extracted. It's important, therefore, to maintain regular dental checkups (at least twice a year) to increase your chances of catching a developing problem early.
If you would like more information on root resorption in adult teeth, please contact us or schedule an appointment for a consultation. You can also learn more about this topic by reading the Dear Doctor magazine article "Root Resorption: An Unusual Phenomenon."
By Lexington Endodontics
October 21, 2018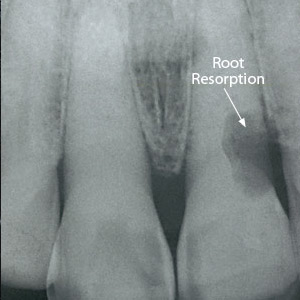 As a new permanent tooth develops, the roots undergo a process of breakdown and growth. As older cells dissolve (a process called resorption), they're replaced by newer cells laid down (deposition) as the jaw develops. Once the jaw development ends in early adulthood, root resorption normally stops. It's a concern, then, if it continues.
Abnormal root resorption most often begins outside of the tooth and works its way in, beginning usually around the neck-like (or cervical) region of the tooth. Also known as external cervical resorption (ECR), the condition usually shows first as pink spots where the enamel is being undermined. As these spots continue to erode, they develop into cavity-like areas.
While its causes haven't been fully confirmed, ECR has been linked to excessive pressure on teeth during orthodontic treatment, periodontal ligament trauma, teeth-grinding or other excessive force habits, and bleaching techniques performed inside a tooth. Fortunately, ECR is a rare occurrence, and most people who've had these problems won't experience it.
When it does occur, though, it must be treated as quickly as possible because the damage can progress swiftly. Treatment depends on the size and location of the resorption: a small site can often be treated by surgically accessing the tooth through the gum tissue and removing the offending tissue cells. This is often followed with tooth-colored dental material that's bonded to the tooth to replace lost structure.
A root canal treatment may be necessary if the damage has extended to the pulp, the tooth's interior. However, there's a point where the resorption becomes too extensive to save the tooth. In these cases, it may be necessary to remove the tooth and replace it with a dental implant or similar tooth restoration.
In its early stages, ECR may be difficult to detect, and even in cases where it's been diagnosed more advanced diagnostics like a CBCT scanner may be needed to gauge the extent of damage. In any case, it's important that you have your teeth examined on a regular basis, at least twice a year. In the rare chance you've developed ECR, the quicker it's found and treatment begun, the better your chances of preserving the tooth.
If you would like more information on root resorption, please contact us or schedule an appointment for a consultation.